What is the course about?
The Mindfulness Based Living Course for Young Adults (MBLC-YA) is the Mindfulness Association's 10-week curriculum for 11-18 year-olds that is based on the Mindfulness Based Living Course (MBLC) for adults. The course introduces the concepts of mindfulness and self-compassion and aims to develop these qualities in students through classroom-based practices and activities designed for this age group.
How is the course delivered?
The course consists of 10 sessions, delivered usually at a rate of 1 per week, each session lasting from 40 minutes to 1h. Each session is accompanied by a PowerPoint presentation. A comprehensive student manual accompanies the course in addition to a wide variety of online recorded practices for students to access. The course is delivered in English by a Mindfulness Association certified trainer Rita Dekšnytė.
What will we cover?
Each session explores themes such as 'Your amazing mind' (which looks at the developing adolescent brain with its different trajectories of emotional development and development of executive function and explains that our brains are hardwired for survival rather than happiness, so these tricky minds are 'not our fault'), 'Staying present', 'Dropping anchor' into the present moment (using the support of breath, body or sound), distraction, attitude, appreciation, and what it might mean to live a mindful life – one that is in alignment with what we value. Self-compassion (i.e. directing kindness towards ourselves when things are difficult) is woven throughout the fabric of the course.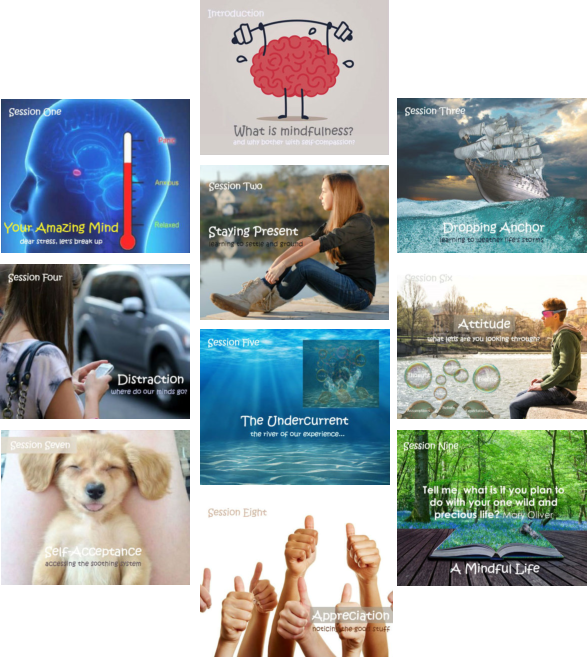 Practical details
If you would like to arrange the course to be delivered at your school, organisation or on one-to-one basis, please contact us.