This online mini retreat offers a half a day of compassion-based mindfulness and conscious movement practice and is suitable for complete beginners (all exercises are guided) and for those who wish to refresh or deepen their practice.
It is an opportunity to step out of the auto pilot of our daily lives and tune into the present moment. We are giving ourselves permission to slow down, become the observer of our experience (thoughts, feelings, body sensations) and practise resting in the midst of it – nothing to do, nowhere to go, nothing to achieve.
We are giving ourselves a break, time to simply be and practise self-care, attending to our human experience (whatever it may be) with kindness and compassion.
Winter Mindfulness Day 2020 will be guided by Rita online via Zoom video conferencing, allowing you to join from the comfort of your home. We will honour the collective challenge that the past year has been, shifting focus to present moment with kindness and self-compassion to nourish and soothe our mind and body, nurturing our inner resources of wisdom and resilience to help ourselves move into winter and new year with presence, gentleness and hope.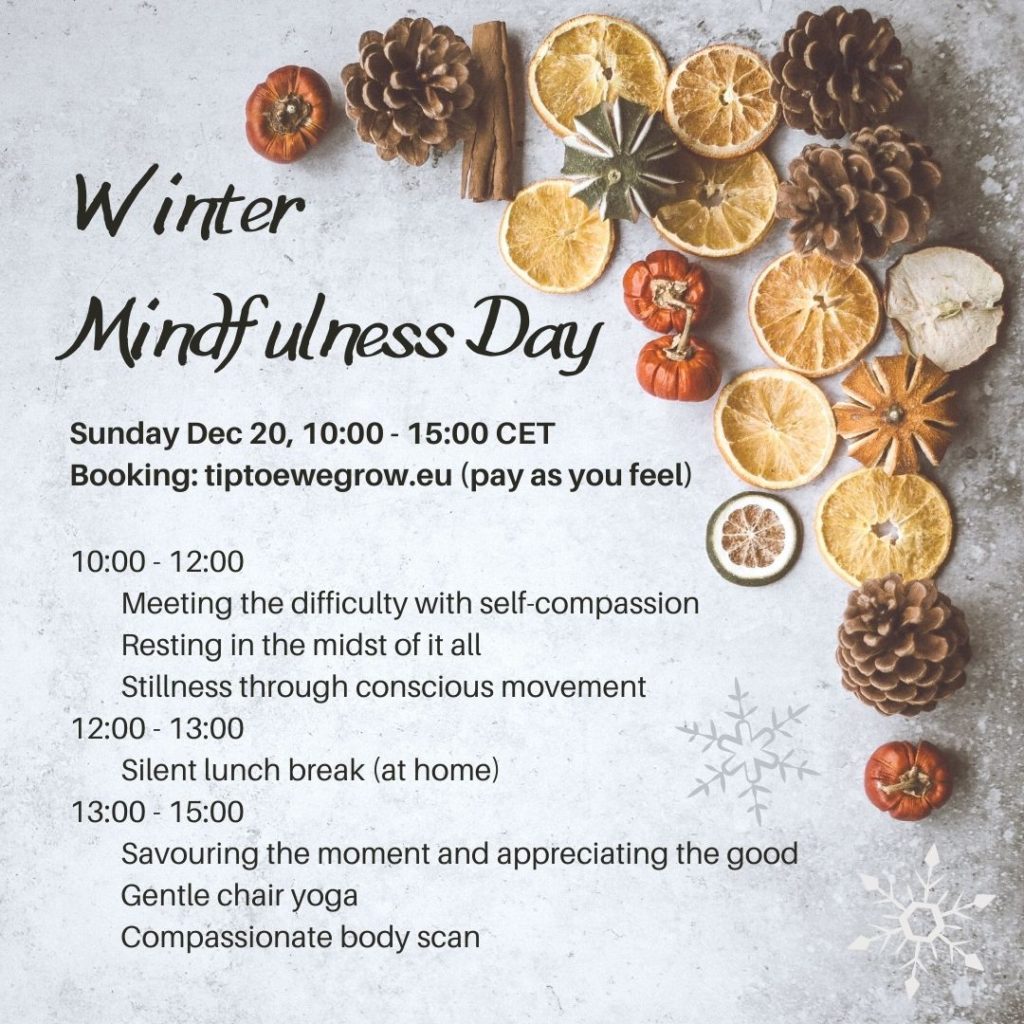 Schedule in Central European Time:
10:00 – 12:00
Welcome, intention and motivation
Meeting the difficulty with self-compassion
Resting in the midst of it all
Stillness through conscious movement
12:00 – 13:00
Silent lunch break (at home)
13:00 – 15:00
Savouring the moment and appreciating the good
Gentle chair yoga
Compassionate body scan
Moving forward with presence, hope and courage
Equipment and clothing: For your comfort please have available pen and paper, a straight back chair or a meditation cushion, a mat or bed to lie down on, and a banket to keep you warm. Wearing loose comfortable clothes is also recommended.